"Mommy, you know that feeling when you're sad but you're trying to hold it in and it makes your throat hurt? I feel that right now."
This came from my oldest as we were in the car on our way home after dropping off my husband last night on the docks at Naval Station Norfolk.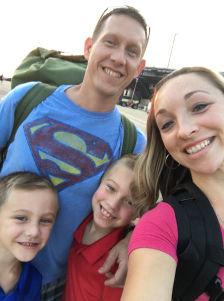 Man, do I know that feeling. I told him it was okay to let it out. That sometimes crying for a few minutes gets out all the hurt feelings and then you start to feel better. He told me he knew, but he was trying to be strong. For me.
My eight-year-old transitioned to his new role before it even started. Before I even transitioned to my new role.
After Daddy walked away and we were buckled up and ready to go, I went to put the car in gear and I heard, "Mommy, I can't be without daddy."
I heard the tears take over (and this one doesn't really express himself), so I threw the car back into park, jumped out of my seat and held him. We cried together for a couple of minutes. My oldest one watched, and I saw that glisten in his eye—but he just smiled.
It took him 30 minutes to tell me what he had to tell me. Thirty minutes of holding it in in order to support his mom and little brother. I never did see him cry.
I go back and forth on whether this little visit home was worth it. Of course, he's always worth it to us. I'd give anything for time with him—but it was harder this time. His time at home was so incredibly short and it broke us in a new way.
I spent the 48 hours before he left sick to my stomach over the thought of him leaving again. The only thing I can say about this quick visit is that the pre-deployment phase only lasted a week, not a month, and for that I am grateful.
Short as it is, pre-deployment is still the worst part of this whole thing.
Either way, I spent day one with a smile on my face and that pain in my throat as I fought back my feelings—as bravely as my boy did last night