In a nod to the civilian health care sector, TRICARE has switched up its coverage process a bit, including adding an open enrollment period from Nov. 12 through Dec. 10.
If you do not select a care plan in this time period for you and your family, you'll only be able to make enrollment changes within 90 days of a "Qualifying Life Event."
If you are happy with your current coverage, you don't really need to do anything. But if you're looking to switch things up and take advantage of some of the newer options available to the military community, now is the time to jump to action.
Prime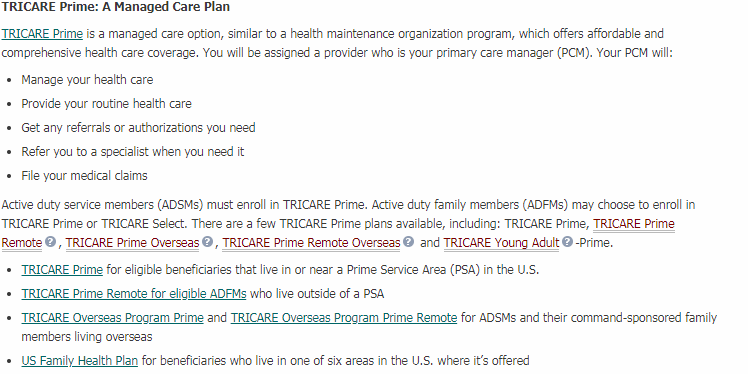 More like your "basic" plan. If the options available to you are daunting, or you're a first-timer, this can tend to be a good option while you sort out the military world and figure out the system. 
In this option, you will be assigned a Primary Care Manager (PCM). This will be your general point-of-contact doctor. Every time you're sick, or need to see a doctor for any reason, you will have to go through your PCM. If you need a specialist, it will have to be decided and referred by the PCM, which can itself be a process. 

So long as you do everything through your PCM, and are ok with your health care primarily taking place in the base facilities, this is probably your best bet.
Details on this plan can be found at https://tricare.mil/Plans/HealthPlans/Prime.
Select*

Described as a "self-managed, preferred provider option," this is the plan for the TRICARE Intermediate-level user. It's more hands-on, and you should be comfortable with the basic ins-and-outs of the military health care system. But what you sacrifice for the automatic decision-making process, you make up in autonomy and the ability to carefully plan your own health care exactly the way you like it.
From picking your own doctors (assuming they're in-network) to payment plans, this plan more closely emulates the civilian health care world. 

If you're not afraid of a little upfront research, this is the plan for you.
For more information on TRICARE Select, go to https://tricare.mil/Plans/HealthPlans/TS
So what do I have to do now?
Before Dec. 10, you are going to want to make sure you have accomplished the few points in this brief checklist.
Make sure your information is up to date in DEERS (Defense Enrollment Eligibility Reporting System). ADSM, make sure you have your CAC card ready for this part. For all the ways you can update this information, go to https://tricare.mil/deers.
If you still are unsure about which plan is for you, there is a tool in which the user can compare plans by feature (or in their entirety).
If you are having issues updating things online, this is the military: there is always another route you can take. Whether it be by mail or over the phone, TRICARE operators are on hand to help you update your information and get you the coverage you need for you and your family.
---
*Select replaces the previous TRICARE Standard and Extra plans