Gilbert Mason stoops to the floor behind a table in his workshop and reappears with a dusty red toolbox. "Let me show you something," he says, opening it to reveal a collection of antiquated-looking gadgets.
Hub chisels, tenon cutters, shaping tools – wheelwright instruments, all of them, custom made for a profession that has not viably existed in more than a century.
Mason takes one out to admire its grooves, the marks a blacksmith made on an iron anvil long ago.
"These are tools you're not gonna find nowhere," he says. "All of this in this shop, you cannot buy." The 71-year-old grandfather says the tools are priceless, but what he values most seems clear from the images strewn across worktables, buried in drawers and hung on the walls: unique renderings of horse carriages and buggies he designed for fun.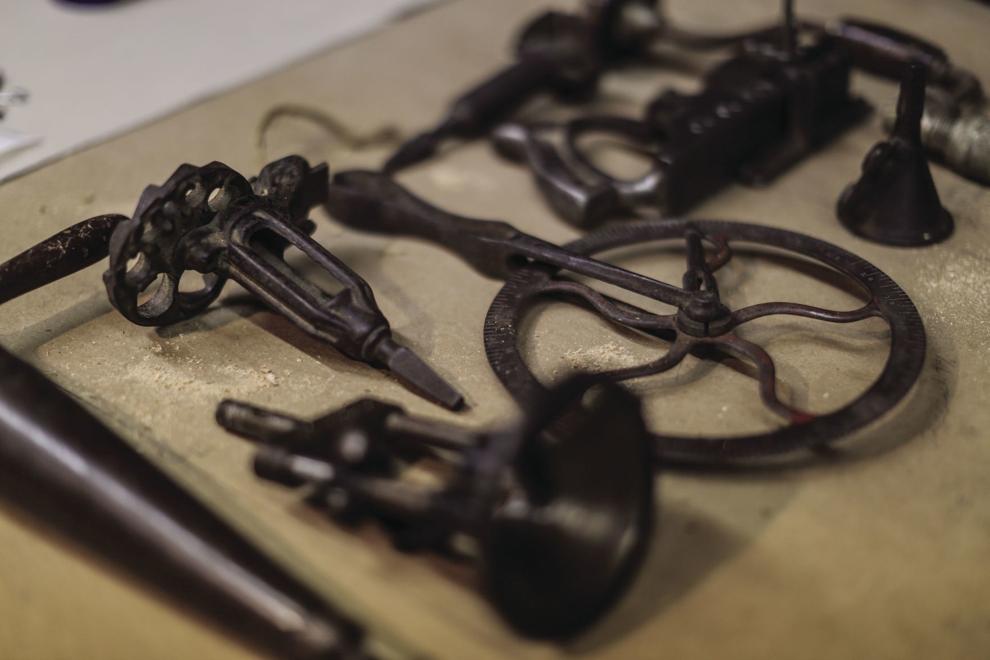 Mason is a man of many hats: farmer, veteran, minister.
But his love of carriages seems to eclipse all others, a devotion that has littered all corners of his life.
He has a copyright for a buggy design on file with the Library of Congress. He sold custom carriages for years.
His drawings have been used on the cover of a book about Amish life. And for the past decade he's been working on his most ambitious venture yet – a sort of legacy: Building a stagecoach from the ground up.
And he's in no rush to finish. In fact, please stop asking.
"People come 'round here, they say, 'Well when you gon' finish?' I look at them and say, 'Hey man, you try it,' " he says with a laugh. "I think I done well over 10 years.
And I'm not in a hurry."
Gilbert Mason's fascination with horse-drawn cars, as he sometimes calls them, began when he was a child on his grandparents' farm in the small Southampton County town of Capron.
"I loved being on the farm all the time as a kid," says Mason, who grew up in Norfolk. "I observed how my grandfather worked the plow. … They had no electricity or plumbing.
"They had a smokehouse where they smoked and cured meat like ham, had a big corncrib where he hung corn and he'd grind it up for cornbread. … It was so much fun and then we'd go to church and people would bring their mules."
Mason treats it as a point of pride that his grandmother died while riding to church in a mule cart – when a car hit her – and even takes out her death certificate to prove it. He still goes up regularly to the family cemetery to cut the grass.
One of six children, he attended Booker T. Washington High School, where he met his future wife, Ruth. They've now been married for 50 years and have three children and six grandchildren.
After high school, in the mid-'60s, he joined the Air Force and was stationed as a firefighter at McGuire Air Force Base in New Jersey. The fire department would rush out to meet incoming aircraft carrying wounded troops, Mason says.
"We had a lot of guys come back from Vietnam shot up," he says. "It was a terrible sight to see. I was 18 at that time."
Mason injured his ankle falling into a hole and was released from service to go to Norfolk State University on military rehabilitation. He studied architecture and then worked as a government draftsman and architectural engineer for almost four decades, drawing parts for buildings and the like. He eventually retired from Naval Air Station Oceana.
His career drew on his natural talents and sharpened his eye for detail, patience and precision, qualities that would come in handy for his beloved hobby.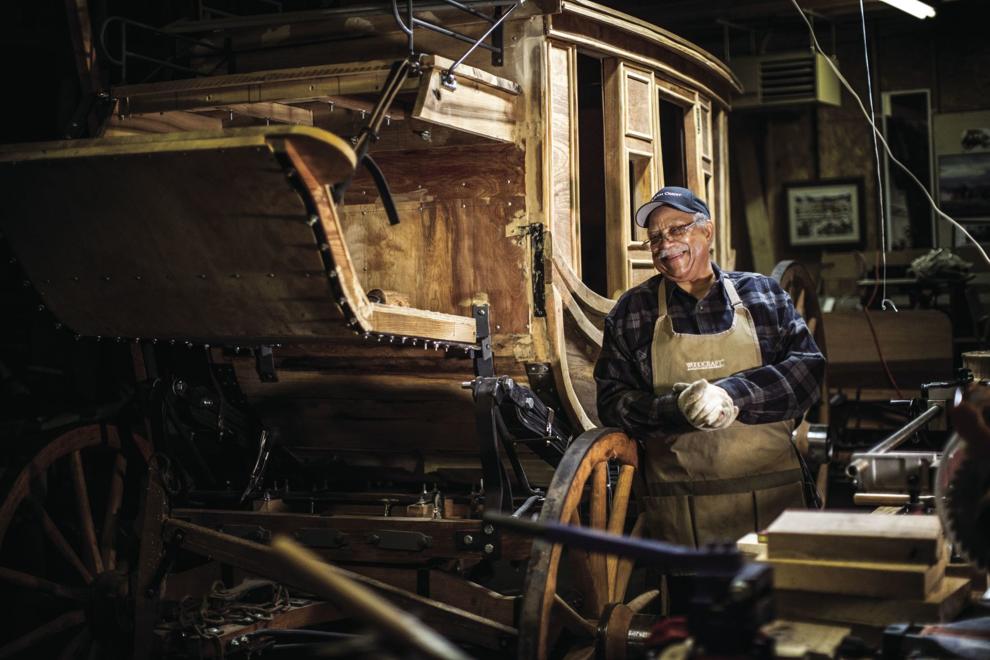 On a calm and humid evening last summer, Mason walked from his home to his barnlike workshop out back, making sure to step over a dead snake caught in a trap. He and Ruth moved from Norfolk to Chesapeake in the late '70s, seeking a quieter life and space for horses. They had eight at one time and Mason started a small business making carriages. A newspaper article back then called him "the buggy man of Mt. Pleasant Road."
Then the traffic started picking up there too, and in came houses and a shopping center. "I said, 'Well you just cannot stay in the country.' It caught up with me. So I got to move further."
The Masons moved south again, landing about 25 years ago where they are now, on a 40-acre slice of land along a twist of Land of Promise Road. He farmed the land himself for years but now leases it out.
The walls of their home are decorated generously with family pictures. Upstairs in his office, Mason has more than filled a display case with miniature carriages of various shapes, sizes and colors. "If I see a picture of a wagon, a carriage, a coach, I will buy it," he says.
In his garage he stores a few life-size buggies, including one he bought for about $1,200 from a Norfolk auctioneer in the early '80s. People ask if he plans to restore it – it's covered in dust and has a few tatters – but he wants to "keep it just how it is, natural." He especially adores the original horsehair used to pad the seats.
His prized possession and achievement, however, is a few yards farther in his workshop: his stagecoach, roughly 2,000 pounds of wood. He loves to bring in visitors to see and touch it, recording their remarks in a notebook and, in a photo album, a picture of them with it.
"People just don't believe when they see it," Mason says. "People just shake their heads."
They say "no black man builds stuff like this," he adds, with a laugh.
"Our kids bring friends around here to see it," says Ruth Mason. "They've heard about it all their lives, so it's like the dream is coming true."
She's always had to contend with her husband's first love, including pausing during cowboy flicks for him to take a picture of the vehicles and understand how they were made, and traveling to pick up certain parts. "It's been a long process," she says. "It's been a joy, watching him. And he talks about it all night long."
He's also spent thousands of hours laboring, and uncounted dollars, in the matter. "I could've bought a whole lot of shoes with what he spent," she says, joking.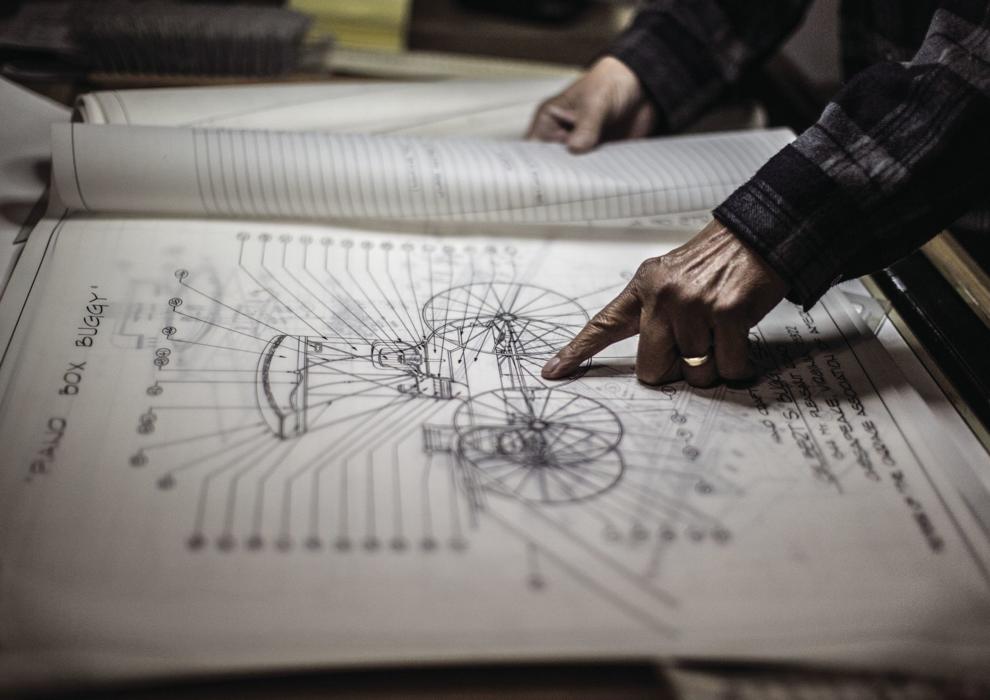 When Mason first set out to build a stagecoach years ago, he couldn't find any blueprint for how to do it.
What he ended up using was a box model from a shop in Greenbrier of an 1848 Concord stagecoach. He scaled up each piece and shipped in the wood.
"I'm building this exactly like they had in the 1840s," he says. "I wanted to get as close as I could" to the originals.
So much so that one day, sitting at his workshop, he was studying the fiberglass he'd used on some bottom wood panels on the stagecoach.
"I thought, 'They didn't have fiberglass back then, why am I using fiberglass?' And I tore it all out." He likes to slow down and get it right. And everything has to be drawn and mapped out first – "everything I do is on paper." Those skills were honed in his draftsman days and even earned him a copyright for a "piano box buggy."
Then there's the meticulous manual labor – cutting and shaping the wood, welding parts like door hinges, binding it all together, sanding the wood, measuring and cutting fabric for upholstery. He usually stays out in the shop until Ruth comes and gets him for the evening news.
Even when he's done with the stagecoach, Mason doesn't intend to rest completely. First he wants to make replicas of each piece so that others seeking to make one in the future don't have to start from scratch like he did.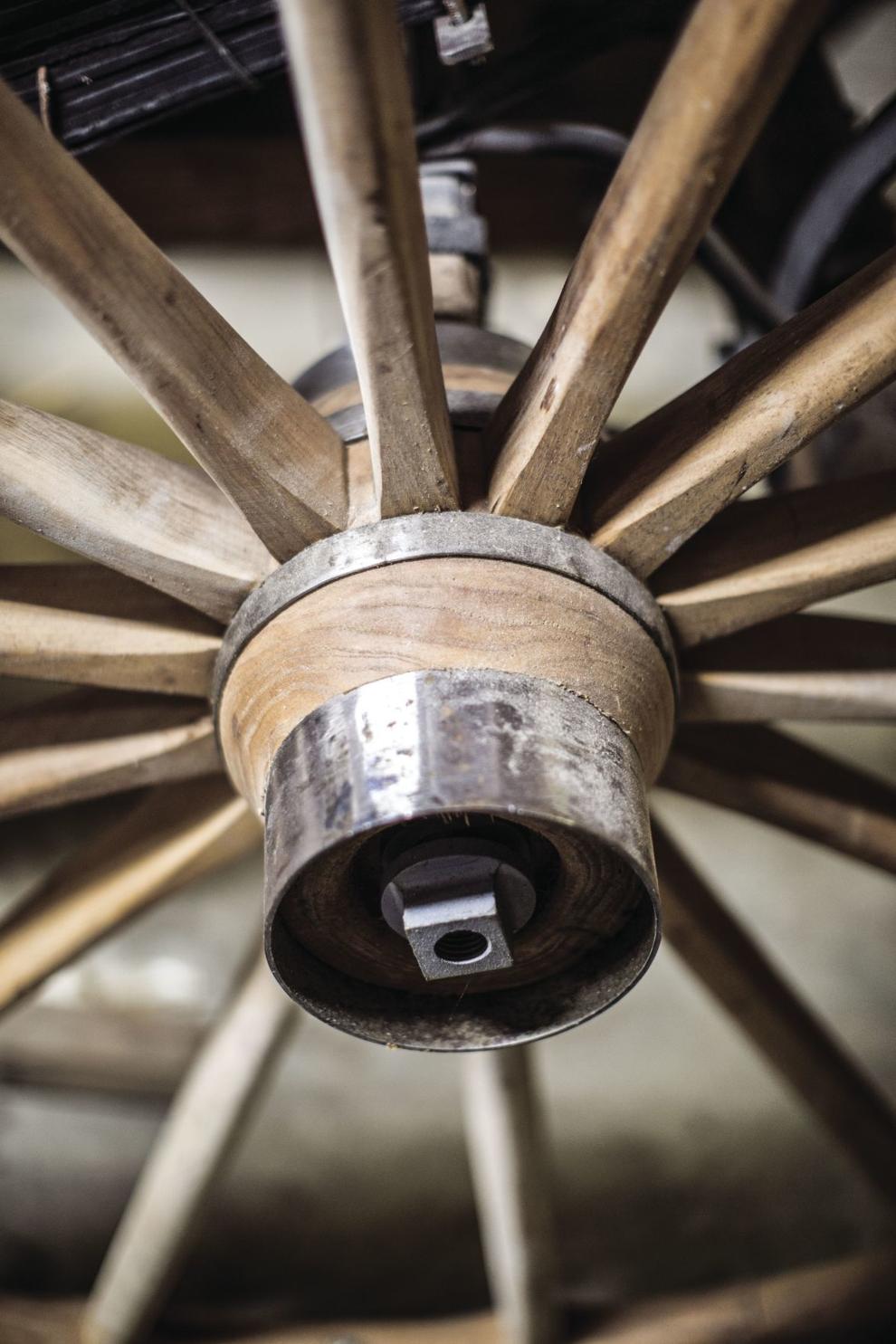 He'll have to take apart one side of the stagecoach to do it, then build it all over again.
He'd love to get some new horses and have them give it a pull. He'd also enjoy using his workshop as a kind of mini-museum, teaching children or anyone interested about the stagecoach and the craft behind it.
"It's just a lost art and I want to keep it going," he says. "I don't want to lose all that history." Mason is also an ordained minister and credits his faith with pushing him through the grueling work.
Sometimes he takes rests from work on the stagecoach and reads the Bible at a desk a few feet away. He was pleased one day to discover a verse about the wheel. He thinks God told Noah how to make his ark, and "gave me the knowledge to do this. And I love it." Mason also jots down his thoughts about the stagecoach, along with other musings and sermons, in a standard lined notebook. In the corner of its front cover, written in black ink, is the phrase, "May the work I've done speak for me."